GameStop Corp posts modest losses in another wild trading day
NYSE:GME remained under pressure on Thursday amid an equities sell-off.
Meme stocks continue to decline as the retail movement is losing steam.
GameStop will be looking ahead to the holiday season to boost its sales.
Update: NYSE:GME shed a modest 0.28% on Thursday to close the day at $175.47 per share. Wall Street ended the month in a down note, as major indexes plummeted right after the opening. As the day went by, equities stabilized near intraday lows, with the Dow Jones Industrial Average shedding 546 points, the S&P500 losing 0.81% and the Nasdaq Composite ending the day 0.44% lower. The NYSE settled at 16,187, down 159 points or 0.97%.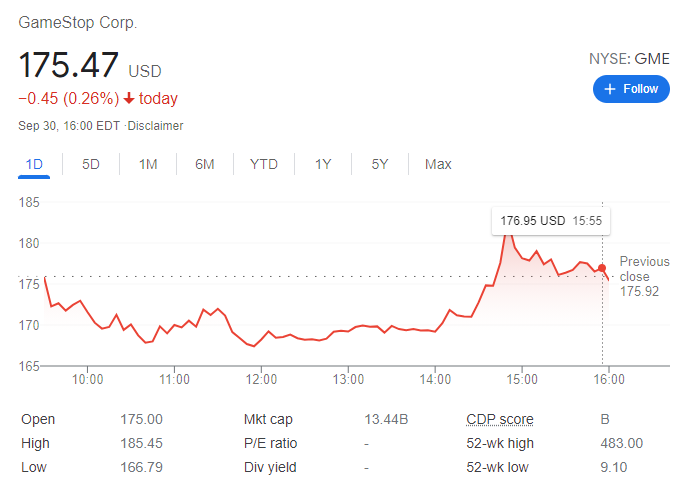 NYSE:GME fell again on Wednesday and saw the same trading pattern as other meme stocks following a brief surge out of the opening bell. Shares of GME fell by 1.50% and closed the trading session at $175.92. Just as its meme stock counterparts like AMC (NYSE:AMC), ContextLogic (NASDAQ:WISH), and Vinco Ventures (NASDAQ:BBIG), GameStop surged out of the open on Wednesday, but had erased any gains by the time the closing bell rang. It was a relatively flat day as the broader markets took a pause following the NASDAQ sell off from the day before. The Dow Jones and S&P 500 rebounded with small gains, while the NASDAQ fell once again and edged lower by 0.24% during the session. 
---
Stay up to speed with hot stocks' news!
---
The retail movement is definitely losing steam as the meme sector has been trading lower over the past few months. Meme stocks have been relatively quiet following the recent squeeze of AMC back in June. One new meme stock that has caught people's attention is Camber Energy Inc (NYSEAMERICAN:CEI) which has soared higher by 116% over the past week of trading. Meme stock veterans like GameStop have actually shown stability over the past couple of quarters, as retail investors look to newer names to squeeze. 
GME stock forecast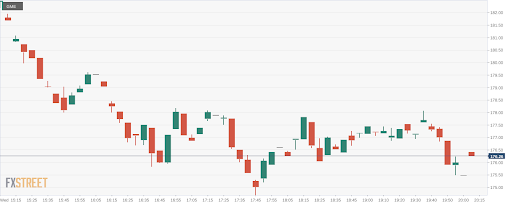 The holiday quarter is always one where retail companies traditionally do well, as do their stocks. Of course, the last couple of holiday seasons have been affected by the COVID-19 pandemic, with stores closing during last year's quarter. GameStop's recent holiday quarters have been fairly disappointing, and a decline in the amount of video games being played won't help matters for the company. 
https://fbs.com/?ppk=forexplatform&lang=en

Source link