Meme stock gains then closes lower after cancelling stock sale
NYSE:AMC dipped 3.85% during a whipsaw session after a strong start to the day.
AMC CEO Adam Aron nixes further stock dilution for the rest of the year.
AMC saw a fraction of its daily trading volume on Tuesday as it fast approaches its 50-day SMA.
NYSE:AMC seems to be a sinking ship that is rapidly declining from its recent all-time high price of $72.62 set in early June. To start the week on Tuesday, AMC fell a further 3.85% and closed the trading day at $49.96. As a company that is relying on the great global reopening, investors did not like the reports out of Israel that COVID-19 vaccines are losing efficacy against the delta variant that is rapidly spreading. AMC is banking on a return to normalcy which of course includes returning to theaters to watch the upcoming summer blockbusters in a safe setting. 
---
Stay up to speed with hot stocks' news!
---
AMC CEO Adam Aron made a pledge to investors via social media on Tuesday that AMC was nixing its proposal to sell up to 25 million more shares to raise further capital for business operations. In fact, Aron stated the company would not accept any more requests for stock sales for the rest of 2021, as he seems to be banking on the stock price staying at these higher levels until 2022. Shares of AMC were up over 5% to start the day, but fell sharply during intraday trading, closing in the red. 
AMC stock forecast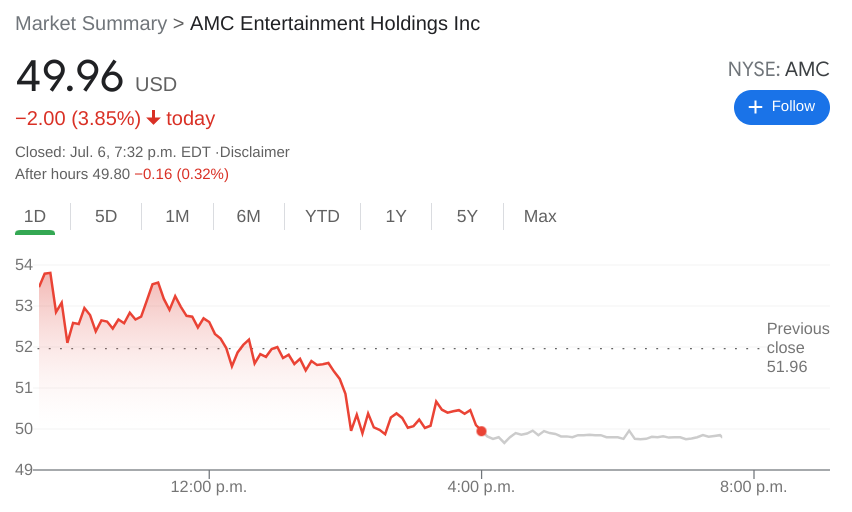 Further signs of AMC's short squeeze winding down were evident on Tuesday as the stock saw another decline in daily trading volume. Only 65 million shares were traded during the day, compared to the recent average of 156 million. At this rate, AMC is fast approaching its 50-day moving average price of $43.08, as the new lead meme stock continues to lose its lustre amongst investors. 
https://fbs.com/?ppk=forexplatform&lang=en

Source link